Sorry its been a while since I last posted, had a hectic week, hubs had an operation so have had to waste valuable craft time with being a nursemaid....pfft Men.
So this card was made using the sketch over at the
My Favourite things
blog and I used the colour combo over at the
Colour Q
for the pallett.
I stamped the image from the So Very Grateful on some watercolour card using stayzon Ink then using my marker pens and aqua pen to colour in the image before cutting it out using my oval cutters. I also used the same image to stamp a background on the base card just to give it a bit of a lift. I cut out a piece of Costal Cabana using the Label collection framelits. I used a piece of old DS papers from last year at the bottom and some of the super gorgeous ruffled ribbon underneath. The sentiment was stamped in Basic Grey and cut out using one of the thinlits. I am not sure if I like the sentiment where it is.
I used these products
Labels collection So Very Grateful Coastal Cabana card stock, Ink and ruffled ribbon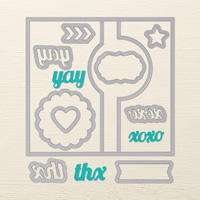 Basic Gray Ink Calypso Coral Ink and Card stock Thinlit
Aqua Pens Watercolour Paper
I also used More Mustard in place of Apricot Appeal as this seemed my nearest colour.
Thanks for looking
Jo